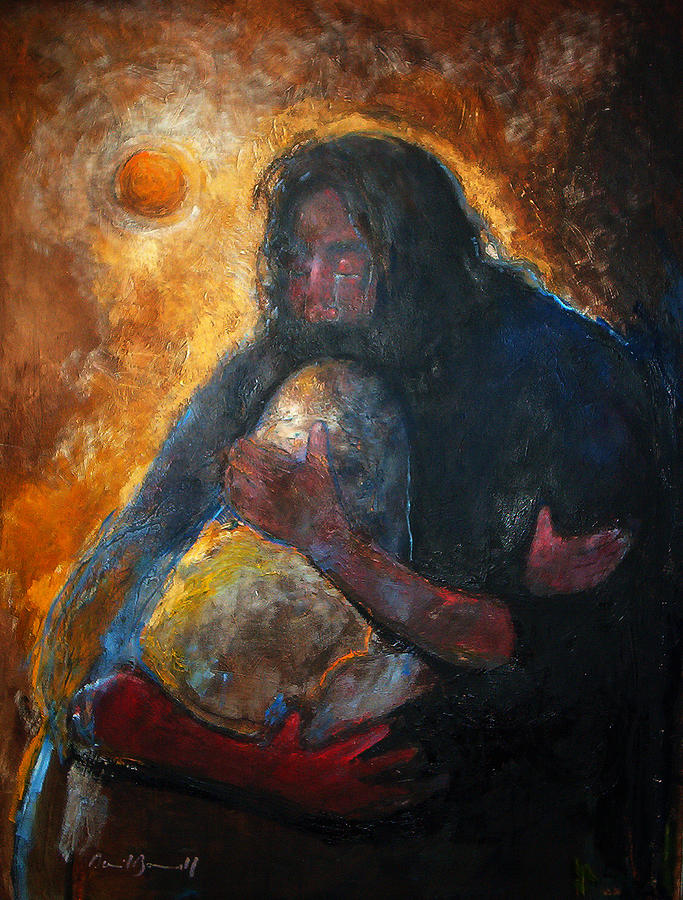 When Jesus arrived, he found that Lazarus had already been in the tomb four days. Now Bethany was near Jerusalem, some two miles away, and many of the Jews had come to Martha and Mary to console them about their brother. When Martha heard that Jesus was coming, she went and met him, while Mary stayed at home. Martha said to Jesus, "Lord, if you had been here, my brother would not have died. But even now I know that God will give you whatever you ask of him." Jesus said to her, "Your brother will rise again." Martha said to him, "I know that he will rise again in the resurrection on the last day." Jesus said to her, "I am the resurrection and the life. Those who believe in me, even though they die, will live, and everyone who lives and believes in me will never die. Do you believe this?" She said to him, "Yes, Lord, I believe that you are the Messiah, the Son of God, the one coming into the world."
My last course at seminary wasn't even a class. It was a small conference about spiritual formation with classes I took for seminary credit. For one of those classes, about spiritual formation in worship, our main assignment was leading the conference participants in opening and closing worship. The theme was Jesus' "I am" statements.
The day before our conference started, the Pulse nightclub shootings occurred. Only days into the conference at this point, we were all still reeling.
Our professor let us choose which statements we wanted to build our worship time around. I chose Jesus' "I am the resurrection and the life" statement. I spent the morning worship guiding the participants through a theater exercise I had based my capstone project around. I invited those gathered to hear me read John 11:17-35 out loud while they "acted out" a role. They could choose any "role" they felt led to embody: a main character, a side character, an invisible character, Jesus himself, and anyone in between.
I began to read, watching everyone get into their characters. Some walked around like Jesus' disciples entering the scene. Some ran like Mary approaching Jesus. Others wandered around, feeling a bit lost and self-conscious. But it took very little time for my own spiritual director, Linda, to get into her role.
She had a small scarf with her that she placed around her head. She sat cross-legged on the ground.
And she wept.
She wept loudly. She wept like a woman in the throes of grief, pain, and loss. She wept like Mary, Martha, and Lazarus' other mourners.
Her niece had unexpectedly lost her life only weeks prior to this conference. I knew she was heartbroken, seeing it in the tears in her eyes when she first told me, but I didn't expect her to react this way, so public and raw. That morning, I saw her grief in the shaking of her shoulders, the pain and loss literally doubling her body over.
This wasn't acting in a way that went through motions, something detached from the actor. This was real, raw, embodied engagement with the text, with her own story and the story of God. This was a real expression of grief and pain.
She wasn't acting like Mary, Martha, or another mourner. She had become one of them. She had become part of the story, because she was already living it.
When she had said this, she went back and called her sister Mary, and told her privately, "The Teacher is here and is calling for you." And when she heard it, she got up quickly and went to him. Now Jesus had not yet come to the village, but was still at the place where Martha had met him. The Jews who were with her in the house, consoling her, saw Mary get up quickly and go out. They followed her because they thought that she was going to the tomb to weep there. When Mary came where Jesus was and saw him, she knelt at his feet and said to him, "Lord, if you had been here, my brother would not have died." When Jesus saw her weeping, and the Jews who came with her also weeping, he was greatly disturbed in spirit and deeply moved. He said, "Where have you laid him?" They said to him, "Lord, come and see." Jesus began to weep.
Eventually, I brought everyone back together to reflect on their experiences and conclude our morning worship. But the whole time, I worried my professor would tell me I had ended the experience "wrong." I feared she would tell me I shouldn't have left the group with Jesus' weeping when the hope of Jesus being the resurrection and the life was the "point" of the story.
But I couldn't do it. I couldn't get to the resurrection first thing that morning. It didn't feel right.
Jesus weeping was the reason I had chosen the text, after all.
And I needed to weep.
So did Linda. So did most of the people there, more than likely.
So do most of us at any point in time in our lives.
We needed to weep over the fact that terrorist attacks against the most vulnerable in our society still happen, beautiful people still lose their lives at tragically young ages, and despite our best efforts, death continues to be a reality.
Y'all, I get it. Resurrection, new life, justice, and peace are things coming, that we await with bated breath and cling to in our darkest hours.
But in the midst of the pain and shit, we need to bawl our eyes out and grieve over the fact that it's not freaking here yet.
I've heard various reasons given as to why Jesus weeps in this scene. The one I've heard the most is that Jesus felt overwhelmed at how much the people didn't seem to get that he was the resurrection, that they didn't understand the true weight of his words.
This seems a little weak, not to mention more than a little petty, to me. I don't see Jesus as the kind of guy to get moved to tears because silly mortals didn't get everything he tried to explain them.
I think Jesus grieved his friend's death, Mary and Martha's pain, the fact that any of us have to die, and the fact that he, too, would suffer death's sting.
Sure, Jesus might have known he would survive in the end. Perhaps he knew death wasn't going to have the final say.
Yet he still broke down in tears at his friend's funeral.
He still needed to grieve resurrection's absence in that moment.
When I get really strong anxiety attacks, all I can do is curl up in a ball and weep, because even though I know my anxious, intrusive thoughts aren't true and don't have the final say, I need the space to weep and mourn the fact that they are there and will always be with me.
We know the arc of the moral universe bends towards justice, but holy shit is it long, and we lose way too many people as we push it to bend faster and be more inclusive. Sometimes we just need to weep so we can honor the exhaustion we feel, grieve the lives we've lost, and be pissed that things still have such a long way to go.
We know the principalities and powers of the world are nothing compared to the glorious, upcoming reign and kingdom of God, but it's still necessary to cry out and scream against the unjust practices of our politics if we hope to bring that kingdom to earth.
Jesus wept before he went and woke up his friend. We have every right, and perhaps even the duty, to do the same.