Dear Fanboys,
I know you're upset over the apparent "robbery" of "your" characters: the loss of your Doctors and Thors to women, your white Peter Parker "usurped" by Afro-Hispanic Miles Morales, your straight Hal Jordan "taken over" by queer Alan Parker, your blonde Captain Marvel flying out so Pakistani Muslim Khamala Khan can soar in.
How dare they touch your precious characters, you cry. And all in the name of something as ridiculous as "politically correct" culture.
You cry out to the geekdom gods: "Why have you forsaken me?"
Oh, my dears.
Just stop.
Seriously.
This is exactly what you sound like. Do you really want to be Dudley Dursley?
Enough with the cries of "P.C. culture is ruining geekdom" and "the canon says this character has to be THIS way," as if those characters don't already break accepted laws of physics and science.
If a time-traveling, regenerating alien hanging out with their past form makes more sense to you than that same alien regenerating into a woman, you're being a little choosy with how you apply your logic.
You're not being persecuted. You're not losing your stories.
What you're experiencing is a thing called "change."
The world and culture are shifting around you. And as such, the representation of that world is going to change.
Straight, cis, able-bodied, white men aren't the only people calling all of the shots anymore. Not only are more women, people of color, LGBTQ+, and disabled people finally getting the right to tell their stories; they have also been reading, watching, and loving the same characters and worlds you have.
All we are asking is that those heroes look like us once in a while.
But why not make an original character, though, you ask. Why must you "steal" one of ours? Go get your own, you demand!
Ah, yes, why didn't we think of that? It's easy, right? After all, your characters seemed to spring up out of nowhere with such frequency, we should be able to do the same.
If only it were the case that movies and shows with diverse casts of characters made by people who aren't straight, male, or white didn't take longer to make because producers don't trust the characters will be likeable or even "articulate." If only these projects weren't desperately underfunded to the point that the production companies attempt to bribe their creators with more money if they just cast a white lead. 
Not to mention the frequency with which these beloved, well-rounded shows with this type of casting are dropped.
I guess they gotta make way for more episodes of Iron Fist, The Ranch, and whatever else Adam Sandler can cough up.
Why aren't more women and people of color trying to tell their own stories, you ask. Why aren't they working hard to get in the director's seat or behind the writing desk?
Here's the short answer: They are.
They're working their asses off.
They're also being met with microagressions like "I'm pleasantly surprised you knew what you were doing," are blamed for a variety of minor issues for the sake of being a "minority," and fearing that if they drop any "ethnic" dialogue or bring up too many "issues," they'll lose the project for good.
Not to mention the legitimate and very threatening harassment they receive online for critiquing video games while having vaginas and posting selfies with their fellow artists. 
These add up real quick and make pursuing a passion that much more exhausting and even dangerous. And it takes a special kind of strength to be willing to pursue what you love when all of that is coming at you every day.
When we get excited over a female Doctor, a woman of color being the main character in the new Star Trek, and actual Muslim women writing the story of an actual Muslim superhero, it's not because we want to "steal" your characters for the sake of being "P.C." We are excited, because just like you got David Tennant and 11 other men as the Doctor, and you had Captains Kirk and Picard (take your pick), we get Jodie Whittaker's Doctor and First Officer Burnham. We get people who are like us telling stories about heroes who are like us. We have icons to admire and exonerate, whom we aspire to be one day, just as you always have.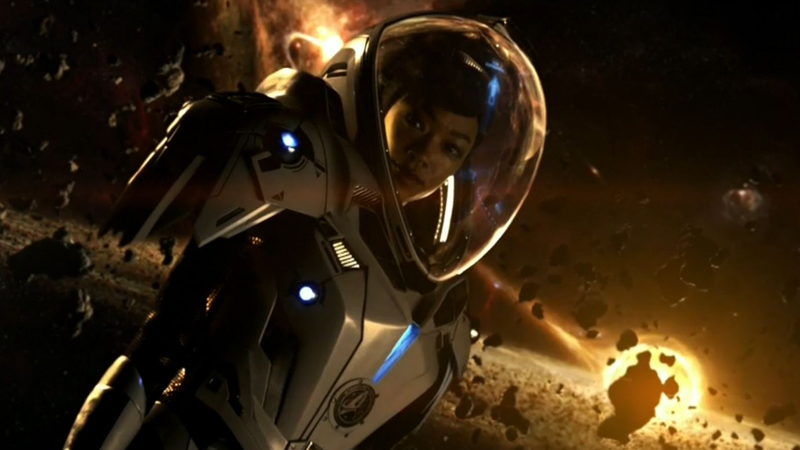 It looks like a sun is collapsing behind her, and she's still taking time to pose all stoically for the camera. How badass is that?!
When only one-third of speaking characters are female, despite the fact that women represent just over half the population in America, when just 28.3 percent of characters with dialogue are from non-white racial/ethnic groups, though such groups are nearly 40 percent of the U.S. population, and when only two percent of speaking characters are identified as lesbian, gay, bisexual or transsexual, we will line up in huge numbers for Wonder Woman's release and binge watch The Handmaid's Tale, American Gods, and Transparent.
When negative mass media portrayals of black men shape public views of and attitudes toward men of color, which can result in self-demoralization and a reduction of self-esteem for people of color and enable judges to hand out harsher sentences and the police to shoot indiscriminately, we will rejoice when Idris Elba heads The Dark Tower, John Boyega is a lead in Star Wars, and A Wrinkle in Time is driven by Storm Reid with Ava Duvernay at the helm.
So instead of complaining, please support us. We have good stories to tell. Heck, we even have universal stories to share, believe it or not.
Support us because you want more people to love fandom and geek culture.
Support us because stories are sacred and affect all of us in sacred ways.
Support us because we're all a bunch of geeks who are into some crazy, weird, phenomenal stories, so we might as well enjoy them together while the rest of the world casts their judgmental looks upon our weirdness.